Infrastructure and Other Facilities
College of Nursing
College of Nursing
The College is situated within the beautiful and spacious Hospital campus in one of the prominent locations of the national capital. Teaching and learning is well synchronized. The classroom teaching is followed by skill training in well- equipped laboratories and complimented with a rich clinical experience of this hospital.
The community health nursing experience given by the St. Stephen's Hospital Community Health Centre at Sunder Nagari is second to none. The combination of rural and urban experience is extended to postgraduate students of other institutions as well. Mental health nursing experience is given at St. Stephen's Hospital and a specialized experience is also given at IHBAS.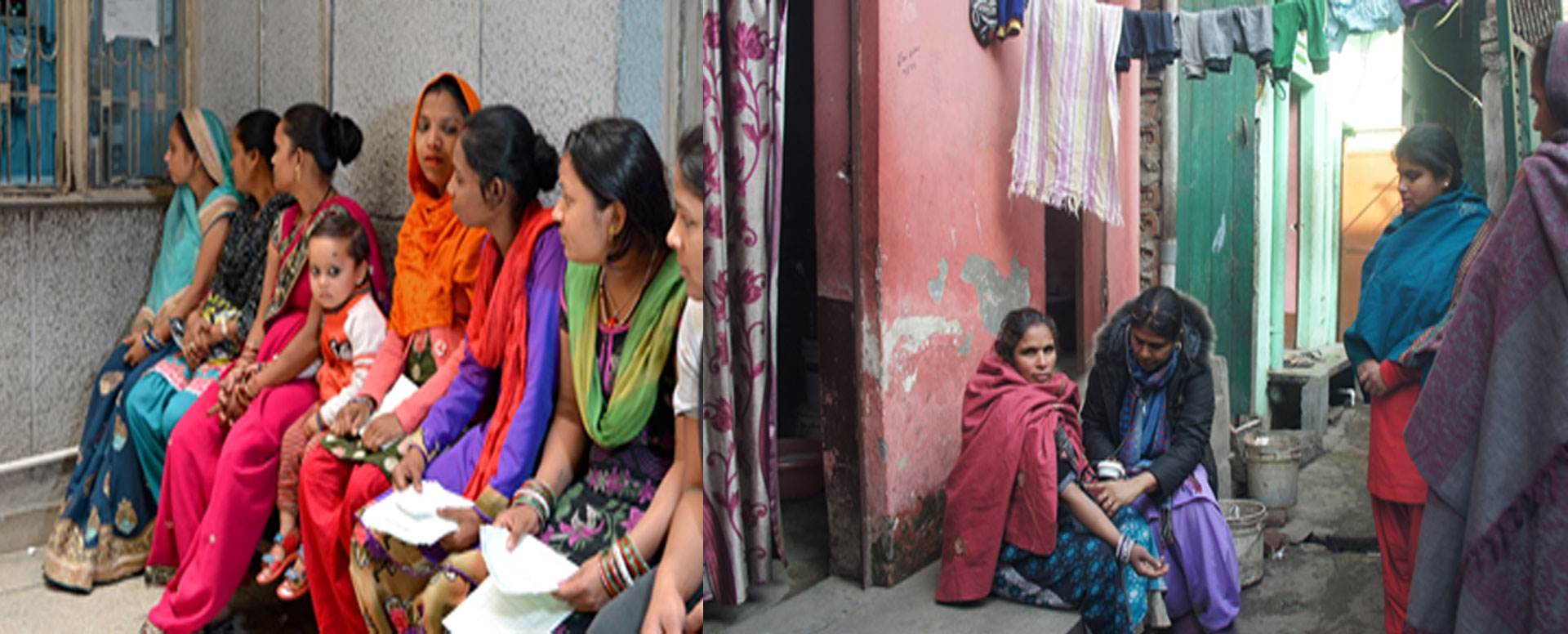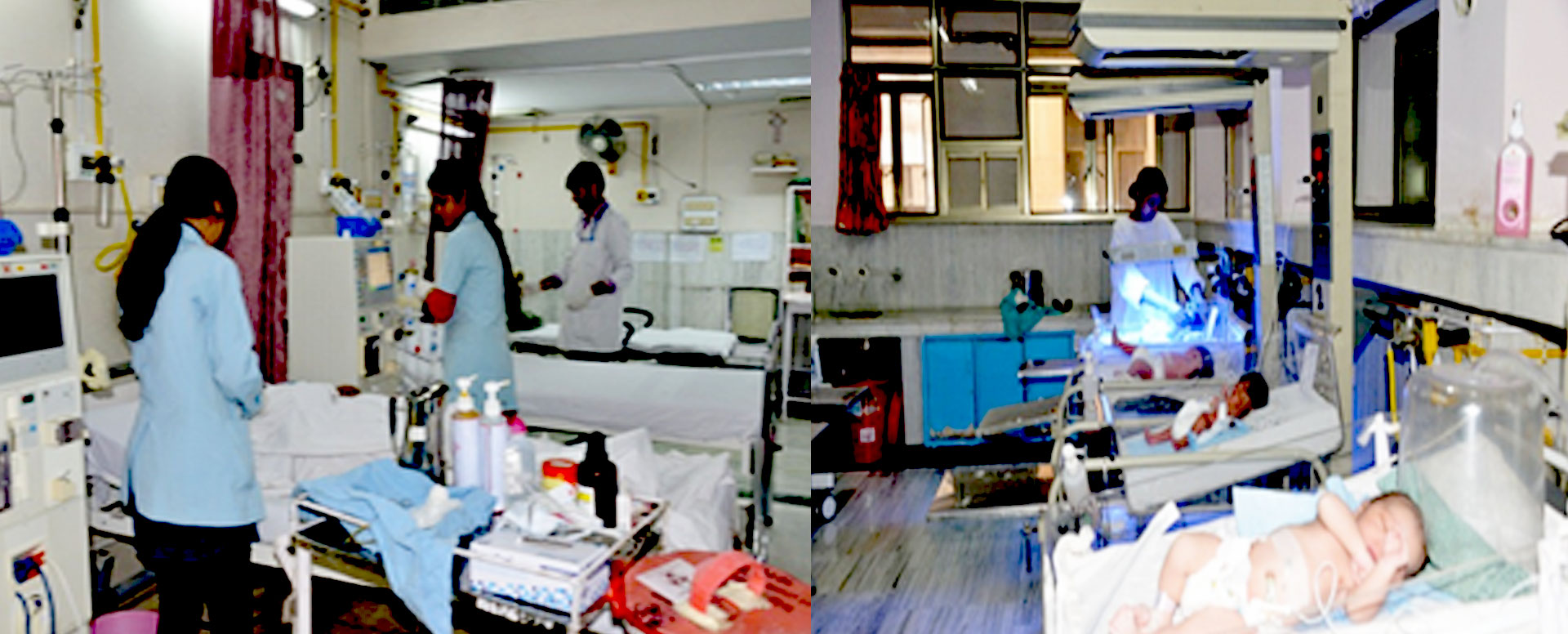 Classroom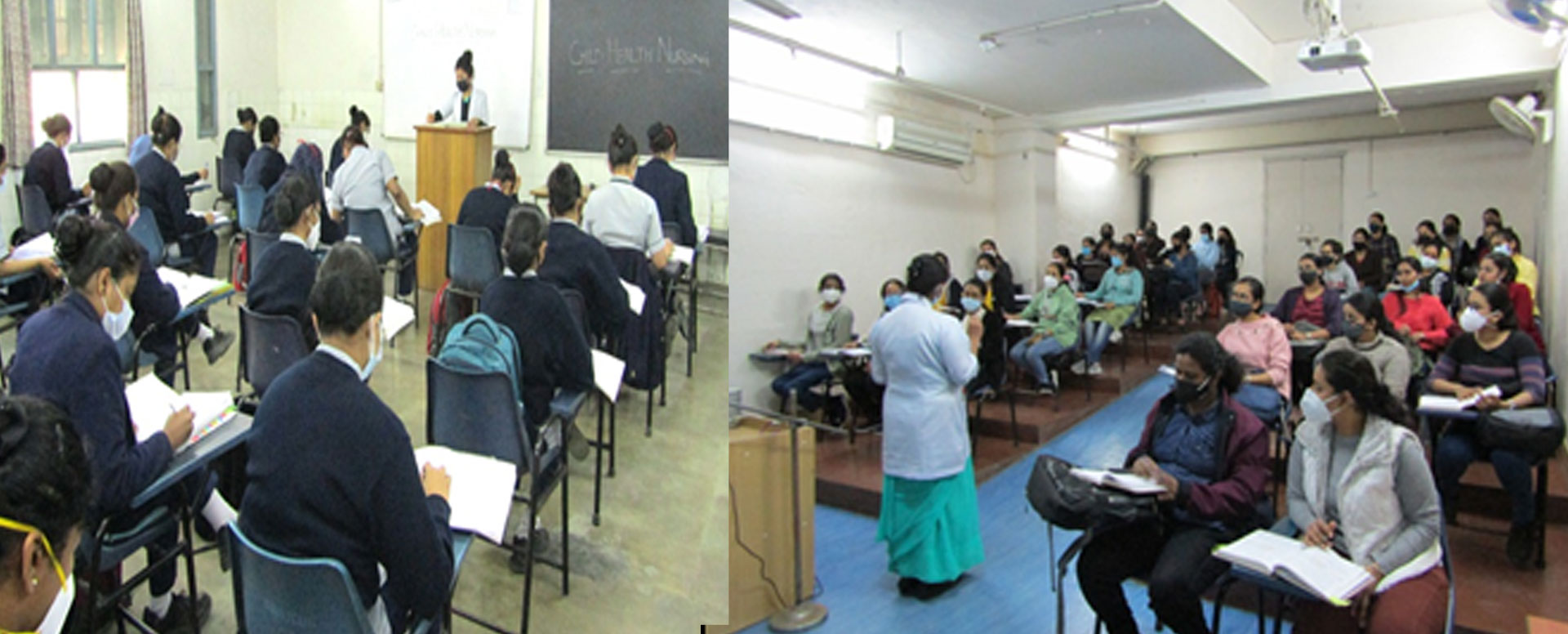 DIFFERENT LABORATORIES AT ST. STEPHEN'S HOSPITAL COLLEGE OF NURSING
1 NURSING FOUNDATION LAB
Nursing Foundation Lab is one which makes the imagination of Hospital set-up and the students can study the procedures and all the things on the dummy with the help of clinical instructions. These will help the students to reduce the stress and fear about the hospital environment.
Facilities:
The lab is well furnished and well ventilated with all the necessary equipments like patients beds with matresses, bed sheets, bedside locker, linens, blankets, towels, bed cradle, cardiac table, wheel chair, stretcher, different sizes of procedure trays and other instruments. All the equipments are as per INC requirement and enough for all our nursing courses.
The lab also contains multiple adult male and female mannequins with colostomy, tracheostomy, injection sites, catheterization etc. and for practicing all types of Nursing care procedure. Crash Cart, Suction and oxygen equpiments,
Activities:
The students perform the basic nursing procedures like bed making, haircare, back care, bed bath, IV therapy, etc.
They also study the different instruments and procedures which are used in hospitals, tray set-up, maintaining aseptic technique during the procedure.
This laboratory enable and encourage the students to be functional and skilled nurses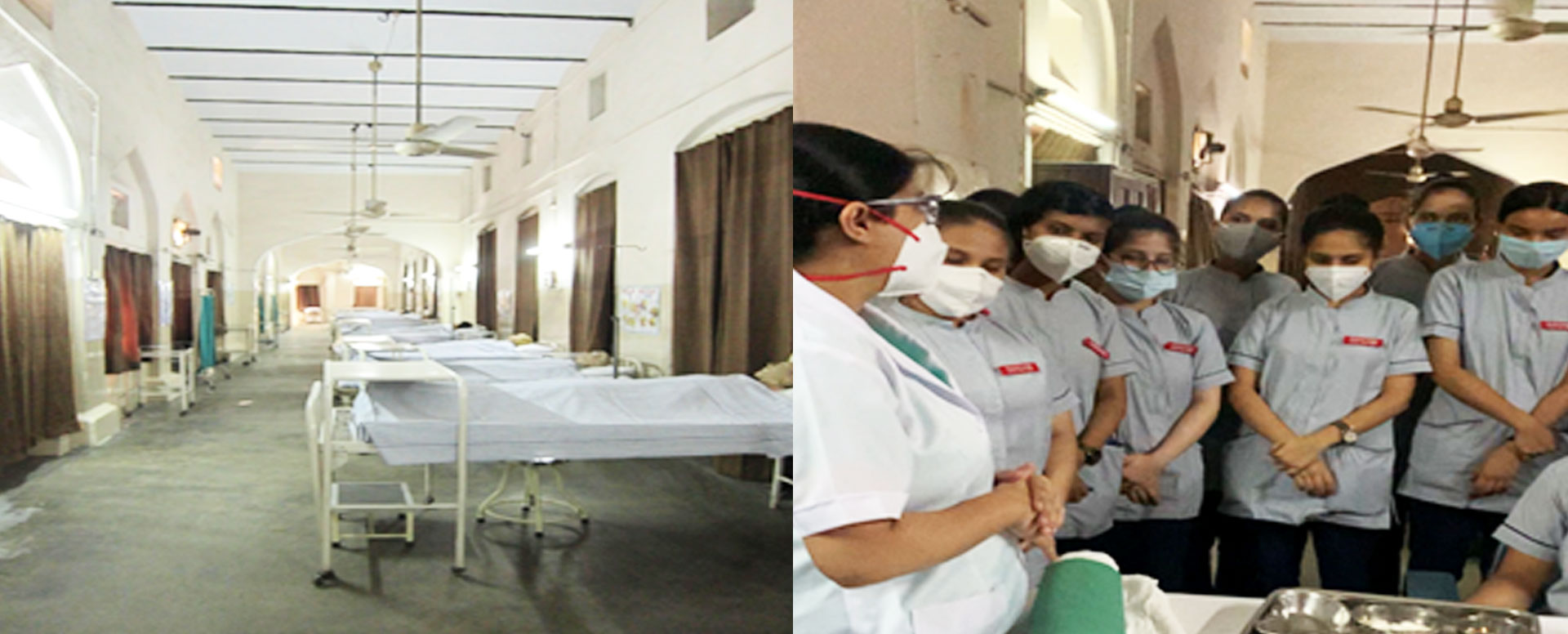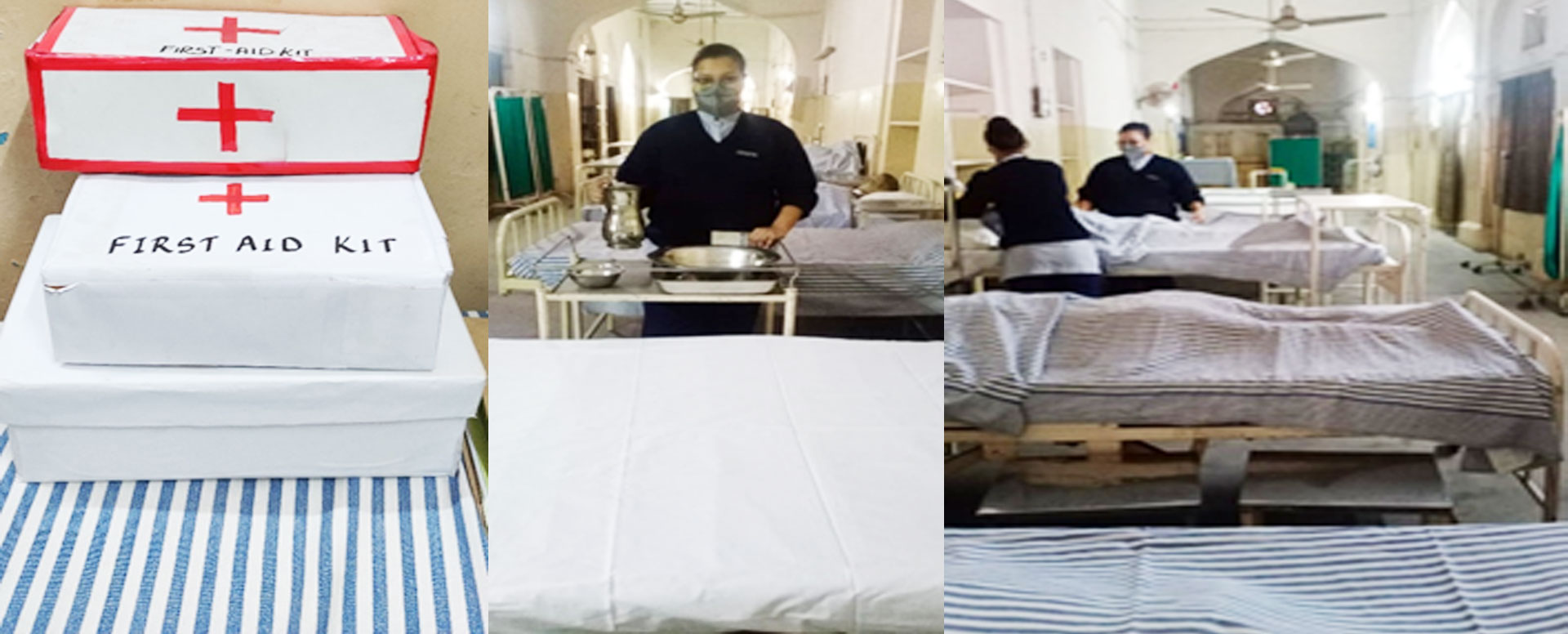 2 ADVANCED NURSING SKILL LAB
Advanced Nursing Skill Lab deals with the advanced nursing care of patients with various medical surgical conditions. The lab accomodates students by providing scheduled times for both skill practice and patient-specific preparation in all the specialities. The role of teachers in the ANP Lab is to support student learning by assisting them with skill practice and developing critical thinking.
The lab contains advanced simulators for injections, blood sampling and intravenous cannulation, catheterization, CPR dummy and suction apparatus, etc. the equipments such as patient beds, matresses, bed sheets, bedside locker, wheel chair, oygen cylinder with flow meter etc. are also utilized for teaching learning activities, pertaining to all nursing departments.
AIMS:
1. To increase awareness among the students in the field of medical surgical nursing..
2. For providing practical knowledge as a demonstration in the lab itself without any barrier.
OBJECTIVES:
1. Students get actual experience to prepare themselves for hospital events.
2. To explain the basic concept of conceptual and theoretical models of nursing.
3. The teacher demonstrates the procedure for an environment in the hospital set-up
3 COMMUNITY HEALTH NURSING LAB
The Community Lab is situated on 1st floor, adjacent to Nutrition Lab at College of Nursing, St. Stephen's Hospital, Tis Hazari, Delhi.
"The Community Lab: A Student's Door to Opportunity"
Our community lab reflects a view of rural community (COMMUNITY CORNER) for better exposure of practical setting to perform various procedures in rural and urban communities at home setting e.g. Bag technique, ORS Preparation, Under five assessment, Antenatal & Postnatal Care etc and urban community (MODELS) to educate regarding various health conditions and health issues including communicable and non-communicable diseases, malnutrition, community waste management, environmental hygiene etc.
Our experienced and specialized (Community Health Nursing) faculty provides excellent theoretical and practical orientation to students. They are guided to provide care to the individuals, families and communities at work places by incorporating epidemiological principles to prevent diseases, promote health and restore health.
The Institute has the distinction of being the only College under IP University to offer Post Graduate education in Community Health Nursing.
4 PEDIATRIC NURSING LAB
Paediatric Nursing Laboratory is situated on second floor with MCH/OBG laboratory at St. Stephen's Hospital College of Nursing, Tis Hazari, Delhi. Paediatric nursing laboratory is designed to help the students to develop an understanding of the modern approach to the child care.
This laboratory is equipped with paediatric CPR mannequin, simulators, paediatric procedure articles like BP apparatus, infantometer, play material, educational materials and other articles for nursing procedures. This laboratory provides strong foundation for handling the newborn child and are utilized by teachers and students for the teaching learning activities pertaining to the curriculum. This laboratory enables the students to practise their nursing procedure before performing them on the babies. It helps to develop confidence and skills in carrying out and assisting various paediatric procedures in clinical setting and community setting.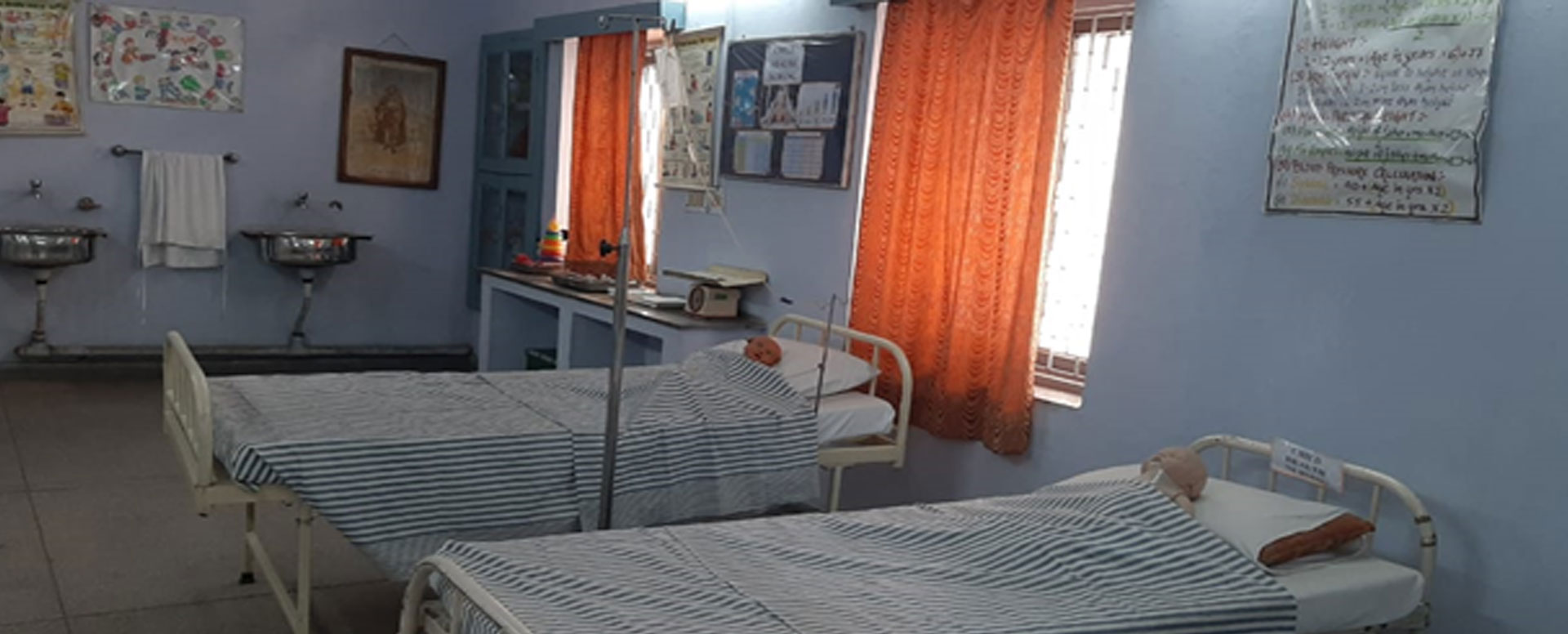 5 OBSTETRICS & GYNAECOLOGY LAB
The OBG laboratory is well equipped with the various learning equipments like antenatal examination mannequin, vaginal delivery simulator, vulval suturing simulators, neonate dummies etc. There are models like gynecoid pelvis, fetal skull, episiotomy etc. and this lab also has various sets of obstetrical instruments and attractive posters for learning. There are specimens preserved in formalin pertaining to gynaecology and obstetrics and they present a live learning experience for the students. The students get hands-on practice in the laboratory before handling the patients.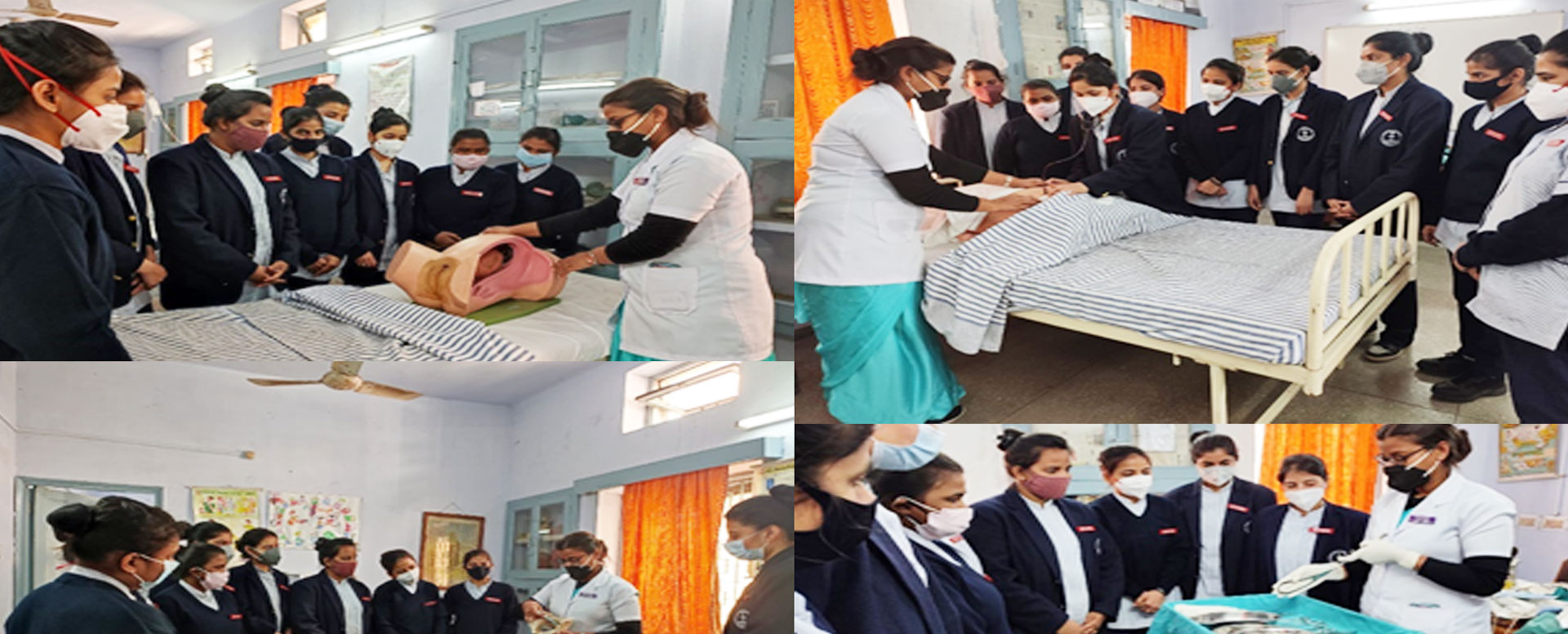 6 PRE- CLINICAL SCIENCES LAB
The Pre-clinical sciences lab it's basically where we do all of our in-person physical anatomy studies, whether it's with models or cadaveric material, bones, images, there are so many different things that we can do. There are a lot of different programmes that do utilise this space to basically go from what you learn in the classroom with a textbook, which may be an image, you can actually see that image, and then here you can actually see it and feel it and experience it in more of a real-world scenario. Seeing the same patients regardless of their roles, seeing the same patients from different angles, and being able to utilise the same space to get that initial learning that we're currently doing right now is absolutely essential. This is the only place like this where we have so many different health and nursing programmes coming together and learning together, and that really enables this to kind of be the centre of nursing learning.
Biochemistry lab provides an extensive range of testing services to all medical center departments and clinics,etc. It is the division of laboratory medicine that deals with the measurement of chemicals in blood, urine and other bodily fluids. These test results are useful for detecting health problems, determining prognosis and guiding the therapy of a patient.
The Laboratory enable the nursing students to learn the various procedures in relation to the biochemical changes related to physiological alteration in the body.
A microbiology Laboratory is a laboratory devoted to the culturing, examination and identification of microorganisms including yeast, bacteria, fungi, etc. The microbiology laboratory has a crucial role in effective infection prevention and control.
The students will have deep knowledge of an infective microbe present in a patient which will be helpful in investigating its source and mode of transmission.
The Lab enables the students to develop adequate knowledge about sterilization, disinfection, etc.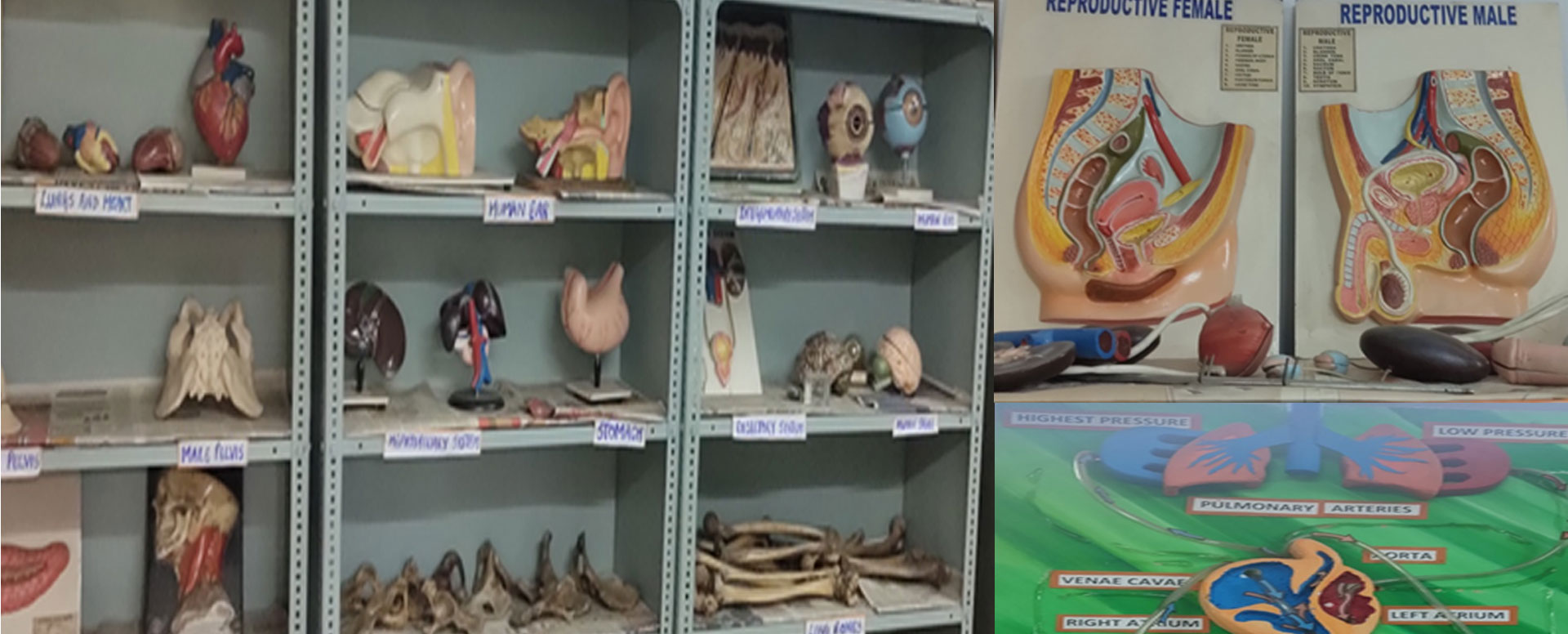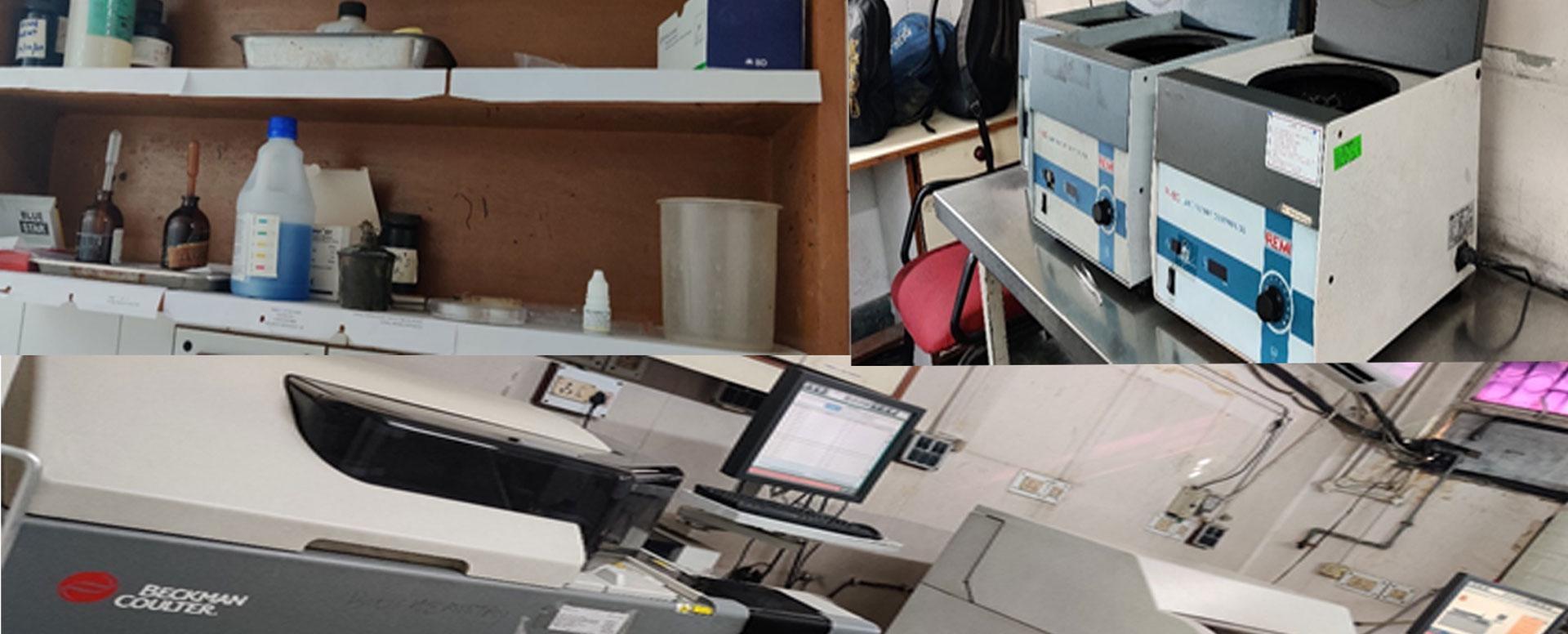 7 NUTRITION LAB
Introduction
Laboratory is a place that is equipped with different equipment for performing experimental work, research activities and investigation. Nutrition laboratory is one part of laboratory that is equipped with all the supplies available in the kitchen required for cooking like stove, cylinder, utensils for the purpose of planning menu, practicing cooking various therapeutic diet.
Objectives
1. Plan therapeutic diet in different settings
2. Identify nutritional needs for different age groups and plan accordingly
3. Prepare different meal using different methods utilizing cooking rules
Physical setup
1. Meal Planning Area: Entrance area is provided with black board and sitting arrangement where all planning for diet for different groups takes place.
2. Cooking area: Next to meal planning room is cooking area with proper exhaust and fire safety equipments.
3. Wet area: Next to cooking room is the area where washing of utensils takes place.
Nutrition Lab Management:
1. Proper organization of utensils, stove, cylinder, microwave, fridge etc. available in nutrition lab.
2. Maintaining inventory of the lab on regular basis
3. Maintaining proper standard of the accessories available in the Lab
4. Proper orientation of the lab to the students
5. Organization of accurate meal planning during practical work of the students
6. Keeping records of all the activities carried out in the lab.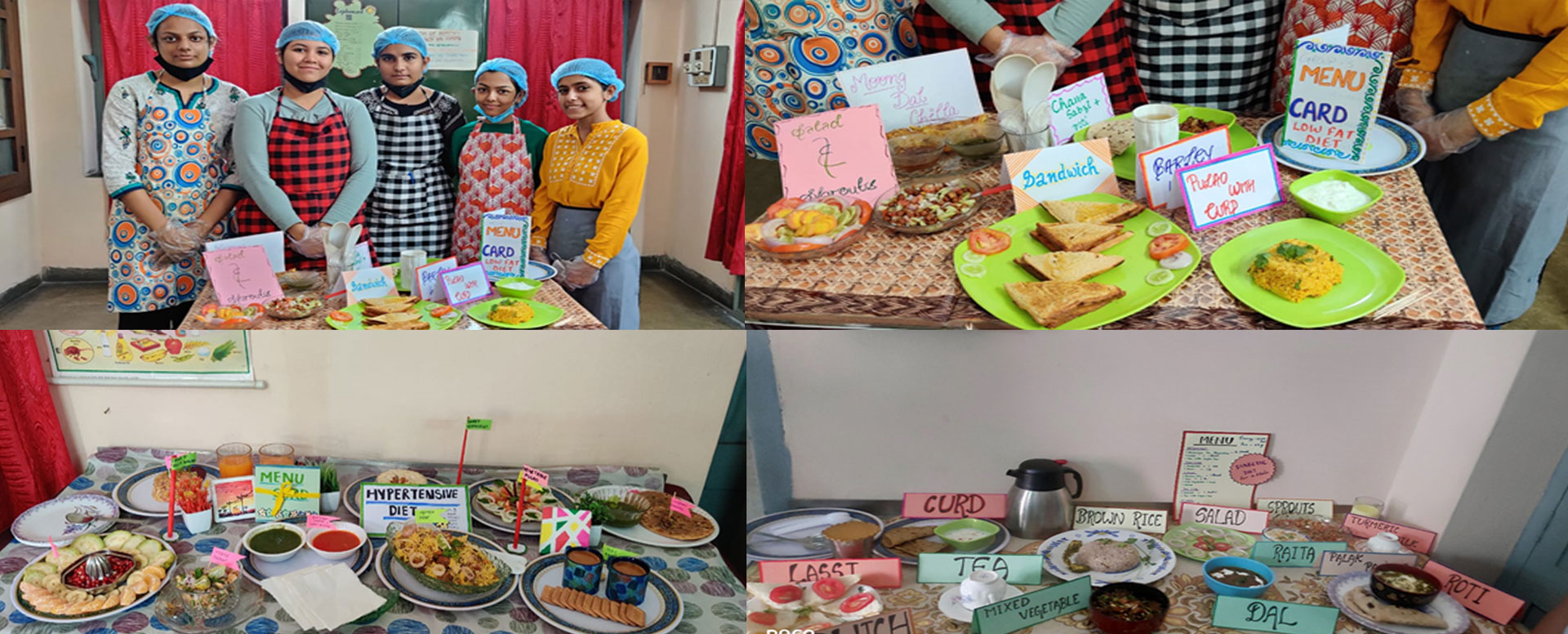 8 AUDIO - VISUAL AIDS LAB
In modern world we use digital tools to improve the teaching learning process. Our college also has an Audio-Visual Aids lab and also utilizes the institution's Audio-Visual Room having projected aids for teaching learning activities. Each classroom is equipped with Overhead Projector, Black board, White Board along with Roller charts with anatomical structures, working models, 2- D aids, 3 – D aids, LCD projectors to have power point slides, flip charts, flash cards etc, which makes the class more interesting and attractive of learn and explain their respective subjects. These integrated technology in the classrooms stimulate the sensory functioning of the students and help them to experience things virtually.
Objectives
1. To strengthen the teacher's skills in making teaching process more effective.
2. To make class more interesting and interactive.
3. To focus on student-centered approach.
4. To attract and retain learner's attention.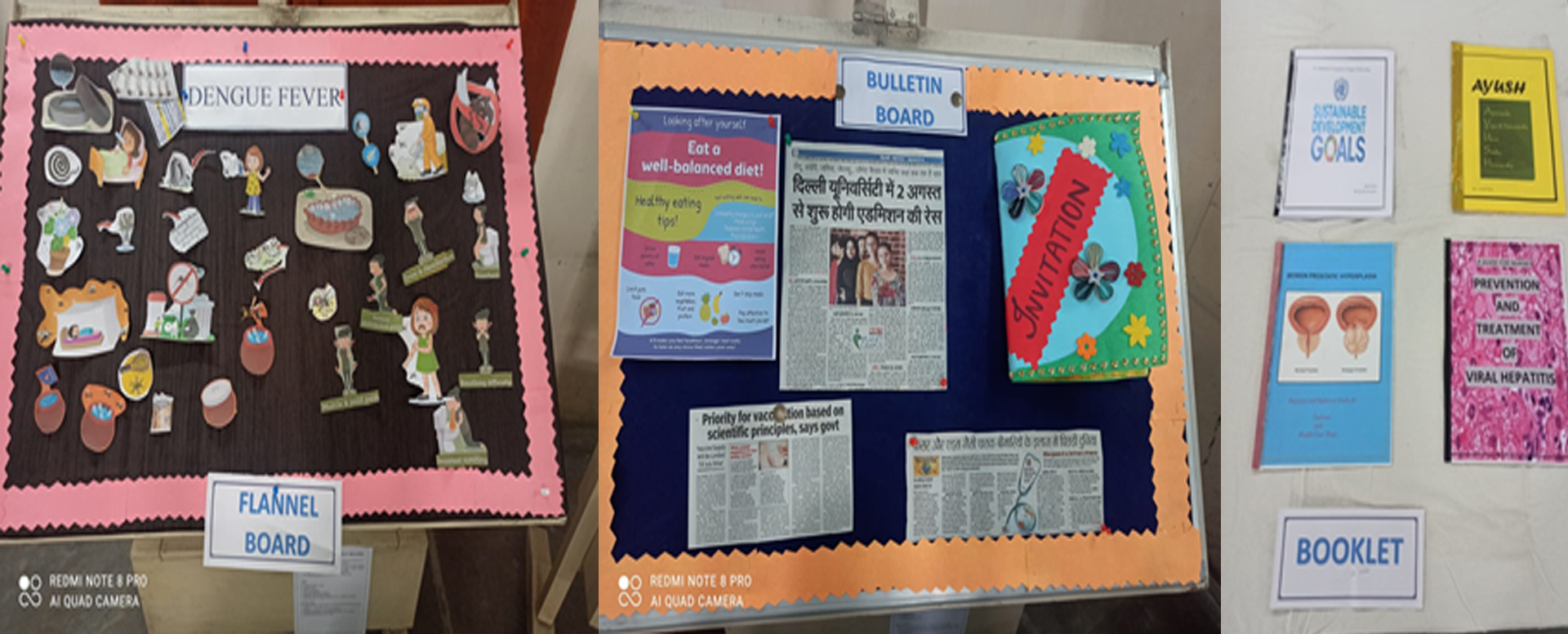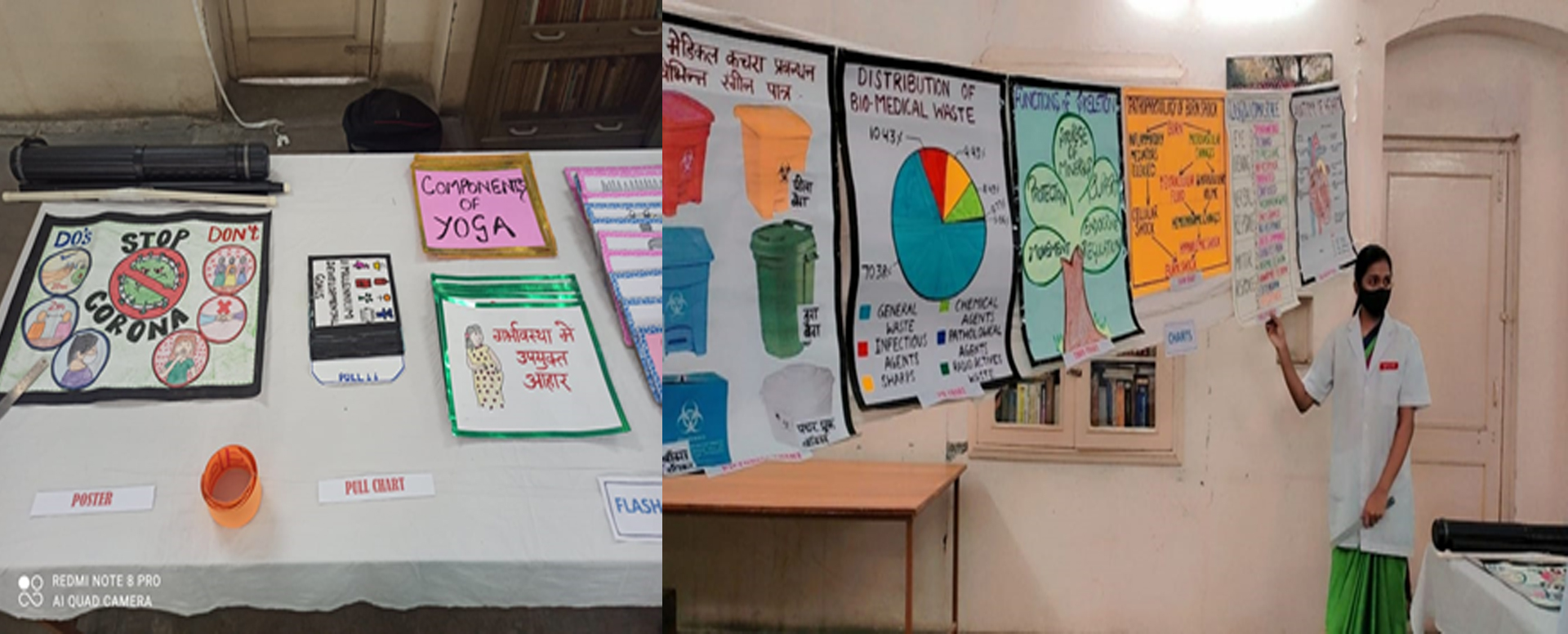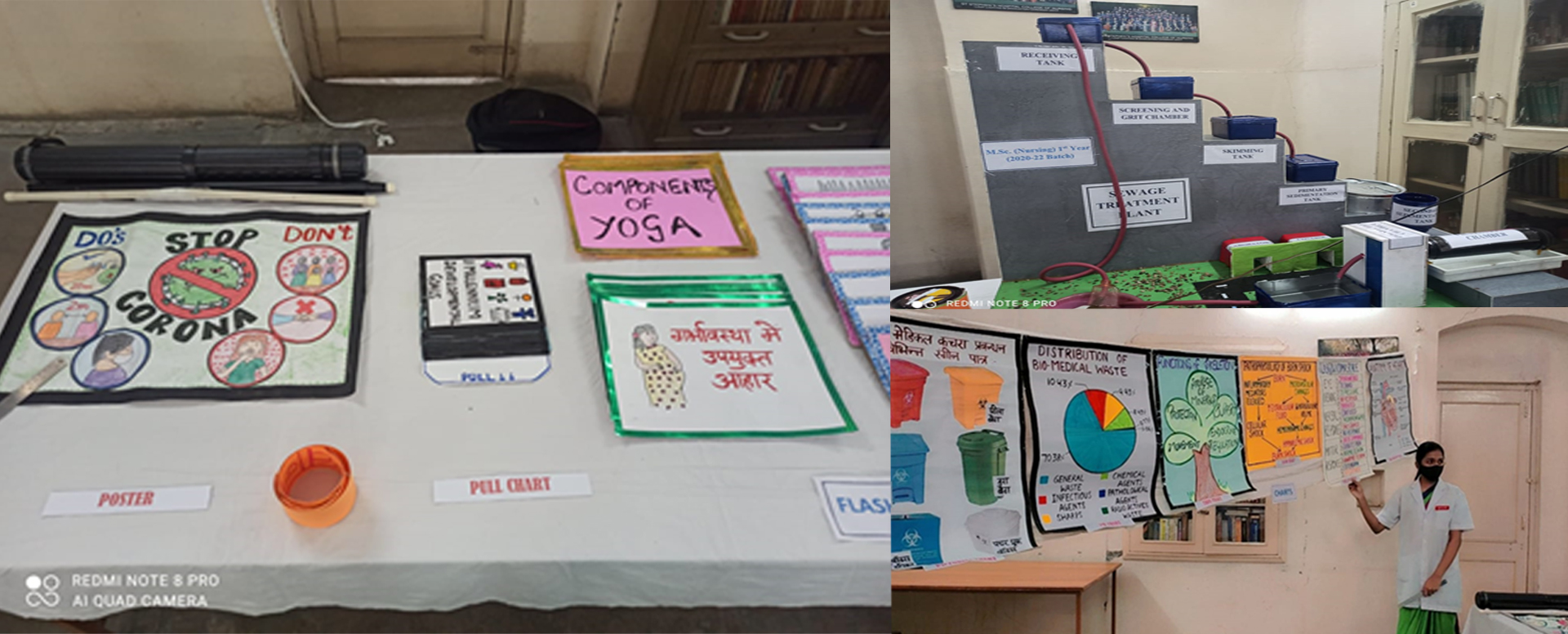 9 COMPUTER LAB
There are two computer labs for faculty and students. The computer labs have internet/teleconferencing facilities to obtain a wide range of educational information. Computers are installed with N-Computing technology, lightweight servers, internet facility and latest software. Wi-Fi is available in the College for students and teachers. 25 computers are exclusively for students in addition to computers and laptops for the faculty.
10 LIBRARY
A spacious and well-ventilated library is available with a capacity of 200 users at a time. More than 4000 books are available with along with National and International journals. The library computers also have internet facility. In addition to this, inter-library linkage and institutional library facilities are available, along with the photocopier for students. The library has Wi-Fi facility. Cataloging and classification of library books is maintained using the latest E- Granthalaya software. In addition to this, inter library linkage and institutional library facilities are available, along with the photocopier for students. Besides offline subscription to national journals (10) and international journals (06), the institution also has made accessibility to more than 700 online journals for the users.
11 NURSING HOSTEL
Students have a separate hostel and dining facility and a well- balanced diet and variety of food is served. Indoor and outdoor games and a variety of recreational facilities are also encouraged.